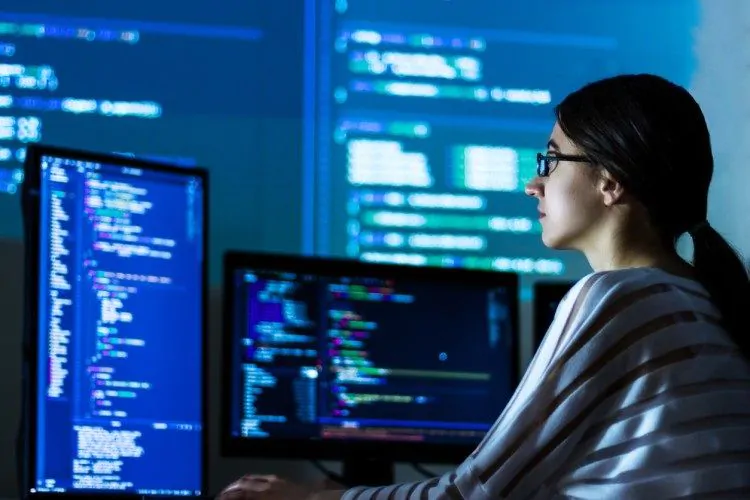 MBA for Embedded Systems Engineers is a hot topic in the tech world, and for a good reason. With the explosion of technologies like mobile phones, wearable devices, and Internet of Things (IoT) devices, it's no wonder that embedded systems are becoming an integral part of our daily lives. In addition to genuinely transforming the way we work and live, embedded systems technology is expected to add $50 billion to the global economy by 2025 and several hundred billion more if you include IoT. As a result, there has been a massive growth in people working in this field.
As embedded systems become increasingly ubiquitous, they will become more vital to organizations across all industries. This means that these engineers will be among the most sought-after professionals in the job market as time goes on. And hence, MBA for embedded Systems Engineers is increasing in demand.
Embedded systems engineers have a unique position in the industry. They are some of the most talented and highly skilled people who may not have gotten a formal education in business. It's not surprising that many engineers steer away from traditional business classes. Engineering is interesting, challenging, and satisfying in its own right, so why worry about finance?
But now that you're an experienced embedded systems engineer, you might be wondering if you should go back to school again for an MBA. How would it help you? What would you learn? Is there any benefit in the MBA for Emdedded Systems engineers?
Whether it is a design role at Intel, a hardware verification role at Broadcom, or similar roles related to semiconductors at NXP or NVIDIA, you can benefit from this article even if your work falls more broadly within semiconductors and is not directly aligned with embedded engineering.
Here's what you need to know about whether or not an MBA is right for your career.
The role of business in embedded systems success
Technology is everywhere and is no longer the sole differentiator. Embedded systems roles in today's world are increasingly complex. Embedded systems products need not just great engineers but also people who can help commercialize them successfully.
"Embedded System professionals are increasingly required to work with cross-functional teams in product development. Hence, an MBA can become a key differentiator for them," says the head of product management at a top-3 chip design firm. The role of embedded systems professionals has evolved from being pure technology experts to more customer-facing roles where they are involved in developing solutions that drive business value for their customers.
"The MBA that they pursue should be a deliberate choice to get skills in the functional areas they plan to work in," he adds. But, most importantly, it should be a well-thought-out career decision to build on their engineering background and an appropriate specialization that will increase their value within the organization.
Software and Hardware engineers that develop embedded systems need a wide variety of skills, ranging from in-depth knowledge of hardware design, to robust software design and development. Such engineers also need to be aware of the business aspects related to their products and commercialization.
Technology is everywhere and is no longer the sole differentiator. Embedded systems products need great engineers and people who can help commercialize them successfully – this includes people who can manage projects well, coordinate with global teams, understand the product's financials and marketing aspects, and work with customers effectively.
What skills can the MBA for Embedded Systems engineers provide?
Individuals looking to become technical managers, product managers, project managers or marketing managers in the embedded systems space should consider an MBA. If you have worked as an engineer or a developer in a technology-intensive company and now want to transition into management as part of your career path, the MBA can help you. Here are multiple ways in which the MBA for Embedded Systems engineers can be a definite step forward for them: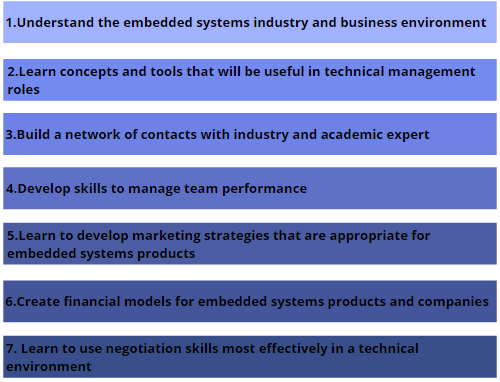 Challenges faced by embedded systems professionals in MBA admissions
We get it. The typical embedded systems engineer has had much lower experience in business settings than other technology or IT engineers, who have had at least some exposure to client business processes. This creates some unique challenges for them in the MBA admissions process:
The typical embedded systems engineer is a programmer working with a small team of software and hardware developers.
Most engineers have little or no exposure to accounting, marketing, operations management, or human resource management.
Because these engineers are in technology-oriented roles, they have limited exposure to senior managers and executives from other functions, who are usually the ones judging candidates during the admission process.
Many embedded systems engineers have little or no experience working in a leadership role.
How applicants can excel at the admissions process for the MBA for Embedded Systems engineers
If you're an embedded systems professional and you're considering applying to business school, here are a few things you should do to make your MBA application stand out.
 Do your research: Business schools want to see that you've researched their programs thoroughly. If you're interested in a specific field, consider what schools offer opportunities for that area in terms of student clubs, professors, and courses. If possible, talk to students who are currently enrolled in the school about their experience.
Describe your transition from engineering to business: Most business schools require applicants to submit an essay describing where they came from and why they're applying to business school. This is an excellent opportunity for you to define your transition from engineering into the business world and why you want to pursue an MBA. For example, as an embedded systems engineer, you might want to learn more about managing product development teams or even manage an entire function such as R&D or manufacturing. You could also become responsible for interacting with external stakeholders (customers) on behalf of your organization. All these require knowledge of the overall business context and having the necessary skills to manage people from different functional areas.
Describe your accomplishments as an engineer: Quantify your contributions. If you've reduced costs by 10% or increased productivity by 15%, mention it in your resume or essays. Your admissions officer needs to know that you're good at math and managerial skills.
Also, use metrics whenever possible. If your team reduced rework costs by $500,000 over the past three years, don't just say that the team did well; tell them how much money you saved the company and what percentage of total costs for that department.
Showcase examples of leadership: Show your ability to take on challenges by talking about challenges you've taken on in projects or by describing projects you've done that show your ability to plan and meet deadlines.
---
You might also like: 
Oxford, Cambridge, and LBS – This Googler Cracked All Three!
Wharton Lauder MBA: Goldman Sachs Analyst Makes it to Wharton
GyanOne success stories – MBA in Canada – Rotman, and Schulich
MBA in the USA: Karnam cracked All Ross, Tepper and Cornell, and Kelley!
Indian Male Engineer MBA Success – Admitted to Tuck, Tepper, and McCombs!