Yale Silver Scholars – Early MBA option
Talk about selectivity! While tomes have already been written about how selective Stanford, Harvard, and Haas are (see this article from Businessweek and this one from Poets&Quants), few look at the Yale Silver Scholars program which has an acceptance rate that is as low as – if not lower – than Stanford's 6.8%. Around 200 applicants from around the globe apply for the program every year, and only around 10 make it. If one considers that these applicants must vie for admission to the competitive Yale program without any work experience, the odds are even tougher.

Early Career MBA applicants – options galore
Yale is not the only school that admits college seniors for an MBA. Till very recently, Harvard and Stanford were the other prominent schools that were willing to look at applicants without work experience.
Now, a host of other programs have been added to that list. While Stanford is open to college seniors, and Harvard offers its 2+2 program, Chicago Booth says it is open to Early Career candidates (including college seniors), Stern says that post-college work experience is not required for applying and also .
Columbia states that it is open to applications from college seniors on its website. MIT Sloan too is open to college seniors and even offers a fee waiver to college seniors who have graduated from U.S. institutions. Indian School of Business in India too has its popular YLP program for college seniors. Given this wide variety of choice, why is the Silver Scholars program so special?
Looking for expert MiM Admissions Consulting?
GyanOne has helped more than 200 college seniors to apply to and get accepted to top Masters in Management programs, and other young leader programs such as Yale Silver Scholars, HBS 2+2, and ISB YLP. Contact us today at +91.989.983.1738 or click here to know more about Gyanone Programs.
Pretty much the only MBA program of its kind
The one exception that differentiates the Yale program from all others is that while other schools offer direct admissions with certain pre-conditions to their regular MBA programs, Yale offers its Silver Scholars a different path.
Successful applicants spend three years at the Yale MBA (against the normal two), the second of which is spent in a full-time internship. Not only does this provide valuable exposure to a professional environment in one's area of choice, but also acts as a great way to explore the career path that one wishes to ultimately take on later.
There are other, arguably more minor, points too. Students in this program spend the first year at Yale SOM with one MBA Class, and their third year with another. This will lead to more networking opportunities.
Nor are Silver Scholars wanting in terms of professional opportunities. The Yale website lists top-notch firms that hire these students for internships. The big names include BCG, Motorola, Time Inc., and Coca-Cola
Career paths for Silver Scholars
Yale started the program to groom exceptional individuals who would take up leadership positions in their careers later. While quite a few students do go on to full-time post-MBA positions with top corporate recruiters across industries, an increasing number are choosing entrepreneurship.
Some have even managed to raise money while still at Yale for their fledgling ventures. This is what Yale SOM can do – one of the most connected schools out there and a powerful name to have on your resume.
Ashok's path to Yale SS – a Yale Silver Scholar from India
One of our clients, Ashok P, demonstrates the abilities and the potential that Yale values. From outstanding grades and test scores to an exceptional record of community involvement and student leadership, Ashok has it all.
He worked with GyanOne to perfect the expression of his career goals and translate his vision of the future into a realistic statement of aspirations.
What Ashok lacked in work experience, he made up through his initiative and analytical acumen. He truly deserves to be, and is a great example of, a SS already.
Ashok engaged with GyanOne for his SS application through our admissions consulting service and later through our interview preparation service.
Both helped him significantly sharpen his story, gain strong clarity on his career goals, and gain deep insight into how Yale could help him accomplish them.
This clarity showed through on his final Yale Silver Scholars application as well as on his subsequent interview, on which he excelled.
Siddharth Jain – another GyanOne client makes it to Yale SS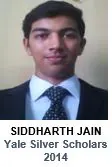 Following closely after Ashok, another brilliant student to make it to the Yale Silver Scholars from India is Siddharth Jain. Siddharth, who has some excellent mathematical achievements to his credit, worked with GyanOne to understand how he could reach his career goals (connected to mathematics and analytics) through the Yale Silver Scholars program.
Through multiple discussions, he sharpened his application, highlighting how he hoped to use his expertise to help small businesses in India. Siddharth's hard work, and his achievements across spheres, helped him to show the Yale admissions committee that he had capabilities that extended from academics to sports and community events.
No wonder, he is one of only three applicants ever from India (including Ashok) who have made it to the Yale Silver Scholars program. Kudos Siddharth!
Want to check out more on Yale MBA?
Yale MBA Admissions Team | Job Opportunities, Scholarships, Selection
What Are Ivy League Schools? And What Makes Them Unique
GyanOne has helped many college seniors to make it to Early Career MBA programs across the world, including the Harvard 2+2, Yale SS, and ISB YLP. To know how we can add value to your efforts, email us today at: info [at] gyanone [dot] com