An MBA is a degree sought by many from different professional backgrounds. Lawyers, too, can pursue an MBA as a part of their career progression. This article explains what an MBA can do for lawyers and why they should consider it seriously.
Why should lawyers consider an MBA? The MBA is not an obvious career choice for lawyers because they are already professionals in one domain and can excel without ever needing an MBA. However, in today's competitive world, having the edge over other lawyers with just legal skills may not be enough to reach the top of the ladder. Most CEOs of major corporations in America have no legal background. Still, they come from business schools like Harvard or Wharton, or Stanford. It is essential to know that though legal knowledge may give you a competitive advantage in the legal field, business knowledge will also help you get ahead in the corporate world. An MBA will help you make business decisions using logical reasoning and management techniques that you learn at B-schools. How do you gain this edge? What exactly can an MBA do for lawyers? Read on to find out.
How an MBA can benefit lawyers
If you look at corporate lawyers who represent Fortune 500 companies, their experience and the advice they can offer their clients is far greater than that of a lawyer who has only worked in a big firm environment.
Similarly, suppose you are an attorney working for a large corporation. In that case, whether you are in-house or outside counsel, an MBA will give you a much greater understanding of your client's business and may even help you better manage your legal department to run it as a profitable business unit.
It is not unusual for attorneys to transition from one area of law to another. Still, an MBA will help them change functions (e.g., transaction to litigation) or industries. While there are exceptions, most employers prefer hiring those with relevant work experience. An MBA will provide the necessary background for those looking to make these changes.
An MBA will also benefit those attorneys who wish to become entrepreneurs or start their law firms. They will be able to learn how to manage their firms more effectively and gain exposure to other businesses that they may want to start in the future. Additionally, they'll be able to build networks among business owners and entrepreneurs that may prove helpful down the road when starting new ventures.
Pairing an MBA with a JD
Those lawyers who want to make the most of their MBA experience and maximize their potential for career advancement within the ambit of practicing law should consider enrolling in a dual-degree program. This will allow them to earn credit toward an MBA and another advanced degree, such as a JD or MPA. These programs are available in various formats, including on-campus and online programs.
Students earn two degrees simultaneously by taking courses that count toward both degrees in these dual-degree programs. Students also complete two separate sets of requirements for each degree — they're not simply earning two degrees at once by taking each other's courses. For example, someone pursuing an MBA/JD would still take core business courses like managerial accounting, strategy, and operations management. Still, they'd also take law classes like constitutional law, torts, and contracts. 
Where lawyers can go after an MBA
Lawyers have multiple excellent post-MBA options available across industries, should they choose not to practice law. Here are some of the most popular industry choices for lawyers with an MBA: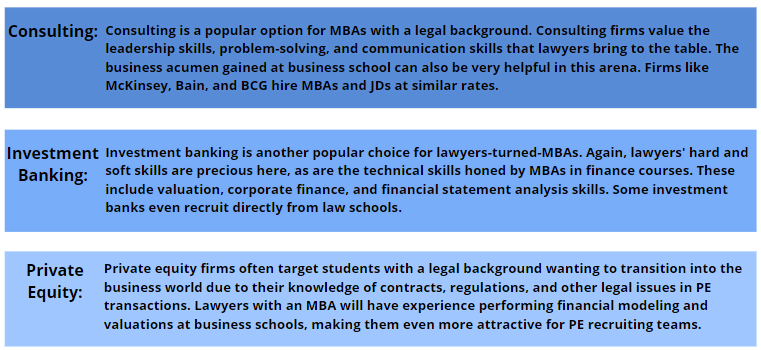 While this provides a glimpse of the opportunities, there are typically several more. 
The MBA for lawyers: a case study
Ashish had a degree in law from the University of Delhi. He worked for about two years as a lawyer for a large law firm and then left to do a general MBA from Stern. He then returned to the same law firm for another two years, but as the Assistant Manager – Legal.
After that, he moved on to a career in capital markets with a leadership role at Credit Suisse. Many lawyers believe that an MBA is not worth it because their analytical skills are good enough. They do not need help with their communication or working in teams either.
However, Ashish's story is proof that an MBA can still add value even when you have an analytical background and are proficient at communication and teamwork. In his own words, Ashish says, "It was not just my performance during my summer internship that helped me get through to Credit Suisse; they also considered my entire profile while making their decision." A top MBA education always counts! Of course, the fact that I had worked in the legal field did give me some edge over others who had not had the same experience. But what made all the difference was showing my knowledge of capital markets. 
Want to check out more on MBA?
Most promising GMAT and MBA Admissions blogs