ISB recommendation(s) should come from a senior/supervisor of the applicant applying to the PGP program. This article provides insight into five important things to keep in mind as you go about the recommendation process.
Why is the ISB recommendation important?
The ISB recommendation is important because it provides the admissions committee with a third-party opinion of the candidate. A professor or a manager can speak about aspects of your profile which you may not be able to highlight in your application. The recommender can also add perspective on how you will fit into the ISB environment, and why you should be considered for admission. Still, why does ISB ask a third party (your recommender) about you? The answer is simple. They cannot trust you completely. No school can trust an applicant without knowing more about him/her other than what he/she writes in the essays! Personal interaction is necessary, which is why schools give that much importance to their interviews. But, ISB does not interview in most cases. So, the next best thing for them to know about you is through a reference, someone who has worked with you closely and knows you well. This ensures that ISB gets a 360 degree view of the candidate and what better way than to get it from someone who has worked with you or observed how you work and how good or bad you are at it!
Selecting the right recommender
As part of the ISB recommendation and application process, you will have to select a recommender for your application. This person could be anyone who knows you well and can vouch for your professional prowess. Some of the things to keep in mind when selecting the recommender are that he/she must: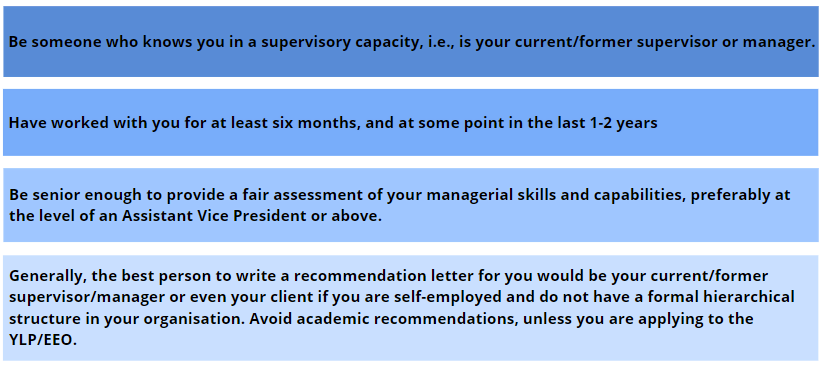 The selection of the recommender is critical because it reflects on your thought process and how you take decisions. It also gives the admission team an idea of how you view yourself in terms of leadership and teamwork. While ISB does not require a letter of recommendation from an alumnus, but if you have worked closely with an ISB alumnus in the past, then it might be a good idea to get a letter of recommendation from him/her. This becomes even more important when you consider that ISB has just one recommendation (many other business schools have two), making the recommender selection critical.
Approaching the ISB recommendation process
Here are some tips on how you can go about asking for a recommendation from your recommender:
Ask early! Depending on the profile of your recommender, they may get many requests for recommendations during the year. Start planning out who you want to ask for a recommendation as early as possible so that you do not miss deadlines. This is also a good way to think through what kinds of recommendations you want. If you have an alumni or current student at ISB in your network, reach out to them and see if they can help answer any questions that you may have on this front.
You should discuss your profile and candidature for ISB with your recommender, including reasons why you are applying and why the school is a good fit with you. Here are some ideas that can help:
Give them a copy of your CV/resume and go over it with them so they know as much about you as possible
Make sure that the recommender is aware of the deadline. You don't want them to forget and miss it.
If possible, give them copies of your essays so they can read what you have written about yourself – this will help them understand who you are and what you want out of the MBA program
If they can't meet you in person, encourage them to schedule a call or video chat with you
Discuss why you believe ISB is a good fit for what you are trying to accomplish
Go over your work or tenure at the company that you worked with your recommender at. Do not give suggestions on what to write, but cover what you did well. Be ready to answer any questions from the recommender on your work.
Keep in touch with your recommender as he/she goes about the process. Sometimes, people forget, and at others, they have questions. You dont  want to come across as aloof after requesting them once.
If the recommender requests, share your essays with him/her; however, keep in mind that the essay questions and content are not directly correlated with the recommendation questions. Your recommender does not need to read your essays to be able to answer the recommendation
questions.
A quick caveat: avoid ISB recommendation samples online
While many candidates look up ISB recommendation samples online to share with their recommender, this is a dangerous practice. While looking at such examples is fine to understand as an example, beyond that, you should not use sample recommendations available online – they are not only boring but also dont give any idea about the candidate. The admissions committee already knows "how good and smart he/she is; based on his resume.
The purpose of these recommendations is to know the person behind the resume, how he/she is as a professional, what are his/her weaknesses and strengths and how can we expect him/her to contribute to the class (by learning from fellow students as well as by teaching them). The answers to these questions need to be specific and valid to you, not a combination of general answers taken from someone else. When admissions reviewers read such recommendations, they are neither influenced nor impressed, because they can see that little thought has gone into that recommendation. You should also be aware that any content reused from online sources amounts to plagiarism, and can directly affect your candidature.
Also Read
What is the Average GMAT score for ISB ?
ISB Non Profit Background Success Story: GyanOne
A Second MBA from ISB – Possible?
ISB PGP Admissions | ISB MBA Application Help
The ISB MBA: an Excellent Option for Reasons Beyond Academics