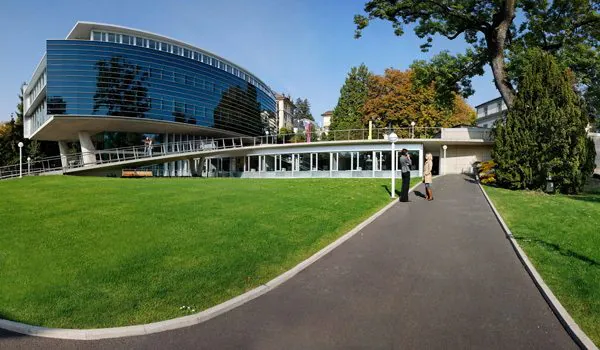 The IMD MBA Assessment Day is a day of interviews, group activities and presentations, which are used to assess each candidate's potential. The IMD MBA Admissions Committee will be looking for candidates with the intellectual ability, the personal qualities and the motivation to successfully complete the IMD MBA program and assume leadership positions in global business.
The assessment day takes place on campus at IMD in Lausanne, Switzerland. All applicants must either attend in person or submit written work and references before they can be considered for admission. The IMD MBA assessment day is meant to be a fun and interactive day that allows you to get a feel for the school as well as show us who you are. The day begins with an interview, followed by an individual presentation on a case study. The last part of the assessment is a team-based exercise where you will work in small groups to solve a business problem. The IMD MBA assessment day is not meant to be stressful or intimidating. It's designed to give you the opportunity to shine and show us what you can bring to our class. IMD want this day to be fun for its candidates so that their true personalities can come through, and the college can get to know them better!
Where most universities have a set pattern to conduct interviews and get to the short listed applicants, IMD holds assessment days which comprises interviews, plays, discussion, and requires candidates to perform a variety of other tasks, all of which are used to make the final choice by the committee. Since the impact of Covid-19 is still intact, the assessment day will be held online this year. The admissions team at IMD has prepared numerous activities and ways to be held at the campus for the fresh applicants to ensure that this virtual version of the evaluation be as perfect and near to the in-person interviews.
Aspirants will first complete an interview session with the admissions team on the assessment day. This will include questions on your experience, career ambitions, and enthusiasm for the IMD MBA programme. IMD explores the ways of economic and social development in which the world leaders hold more diversity and open-mindedness. The university has designed the IMD MBA 'Create our Future' Assessment Trials to support the growth of the previously stated thought about including more diversity in our leaders, and encourage top achievers who may not have the financial resources to apply at IMD but have the potential, drive, and enthusiasm.
If you have the motivation and ability to join IMD's  exclusive group of participants, this is your time to show that you have the ability to create a long-term impact on companies and society. This day holds many secrets but also exposes a lot more – if you don't enjoy working in teams or groups, you won't be able to function in a business school like IMD. In the case-study challenges and team projects, the IMD MBA curriculum includes a lot of group work. As a result, it's critical to collaborate on your initiatives as a joined team. The second main reason is that you will learn to deal with stress, which will be a problem both during your study at IMD and afterwards in your work. And that's why IMD has come up with such a unique set of plans.
The admissions committee looks for these aspects the most, in the aspiring applicants- Strong Academic Ability, Career Progression, Leadership Potential, and International Outlook. Since ever the process used to be an inclusion of a lot of challenges like–Personal Interview-Short Presentation-Lunchtime; meeting new people-Case Study Discussion-Class Observation
IMD MBA Assessments Challenges 
IMD also conducts a series of challenges and assessments which are really day-long competitions through which you can win a place in the IMD MBA class. Typically, every challenge involves a series of individual and group exercises that are monitored by the IMD MBA admissions committee.
Young Leader's Challenge I
This IMD MBA Assessment Challenge is a creative and engaging online experience in which you will participate in several assessment activities with a pre-selected group. This is your time to wow our admissions panel by stretching your thinking, learning from others, and developing. The winning applicant will receive CHF 40,000 in addition to a spot in the MBA class. Runners-up too will be granted a spot in the MBA class.
A one-day intensive think-in in which you will join a pre-selected group to brainstorm solutions to society's most important problems. The selection committee will shortlist those that have the greatest impact, contribute the most to idea generation, and display leadership and greatness potential for an individual interview and possible admissions offer to the IMD MBA programme. One will be awarded a 40,000 Swiss Franc scholarship.
It is a fantastic way to get a taste of what it's like to be an IMD MBA student. Not only would you learn about analytical and problem-solving techniques throughout the tough assessment challenge day, but will also get to engage & work with fellow applicants to think outside the box and tackle significant social problems.
The Africa & Middle East Challenge
This is your opportunity to compete for a spot in IMD's international, boutique MBA programme – a personalized and learning exchange adventure that intensifies your entrepreneurial skills and styles you into a conscientious leader – if you are a citizen or resident of an African country or the Middle East. IMD's  selection panel will shortlist those that have the most impact, contribute the most to idea generation, and display leadership potential for a personal interview and maybe a spot in the IMD MBA programme. The one who will score the highest will receive a scholarship of 40,000 Swiss Francs to help with the tuition costs.
The Women Leaders Assessment Challenge
IMD aspires to enhance the unique network of women throughout the programmes at IMD by celebrating, supporting, and raising the prominence of women in business. If you want to participate, keep the following in mind–
You are a lady between the ages of 24 and 32 who has worked for at least two years.
You have a proven history and the determination to reach your greatest potential.
You wish to develop the necessary abilities to face the future's complicated and ethical issues.
You want to develop into a thoughtful and competent leader who has a long-term influence.
Young Leader's Assessment Challenge II
This challenge again holds similar activities and hurdles for you to pass as the IMD's Young Leader's Assessment Challenge I. This is your time to wow our admissions panel by stretching your thinking, learning from others, and innovating. IMD is searching for young leaders to join their class, which is comprised of a chosen team of dedicated, mature, and globally minded individuals from around the world with the drive and power to make a contribution.
The IMD MBA CO-RO Challenge for Danes will be held online in which you will participate in team and individual exercises with a pre-selected group. IMD wants you to think outside the box, learn from others, and assist us in understanding the unique features that you will contribute to the programme.
Americas Assessment Challenge
This is another region-based challenge where participants from the American continent apply to. Just the other activities and hurdles, this will be equally exciting, tiring, but worthwhile. The applicant who actually wins will receive a scholarship of 40,000 Swiss Francs.
---
Want to check out more on IMD MBA?
Life at IMD : Interview with Rakesh R, IMD MBA '16
IMD MBA Admissions: Operations Professional Makes it to a top B-School